Benefits of Professional Lawn Care Services
During our time in the lawn care industry, we have discovered that property owners choose to perform their own lawn and tree care for many reasons. Some folks are your typical DIY property owners, preferring to maintain their yard on their own. Others feel like professional lawn care services aren't worth the expense. In truth, when the health of your grass, shrubs, and trees are on the line, you really can't afford not to hire a lawn care company. Let's review a few reasons why.
Why Hire a Landscape Maintenance Company?
Saves Time and Effort
When it is done properly, lawn care takes a lot of time and effort. Mowing, pruning, feeding, and seasonal maintenance tasks must be done year round to keep your yard healthy and happy. This can easily become a full-time job, especially if your property has elaborate landscaping. Lawn maintenance requires extensive manual labor to perform, and most people don't have the time or energy to devote to this in the evening after work or on the weekends. Hiring someone else to do the work is much, much easier.
---
Improves Curb Appeal
Not many people think about selling their home until it is time to move. However, since your home is an investment, it is always a good idea to do everything you can to help maintain its beauty and functionality throughout the years. Hiring a professional for lawn care services ensures your grass, trees, and shrubs are consistently maintained, and that can lead to improved curb appeal when the time comes to sell your home. Additionally, you won't have to worry about getting the yard in order to sell your home, since it will already be in pristine shape.
---
Allows You to Enjoy Your Yard to the Fullest
Chances are, your yard was one of the most attractive features of your home when you first bought it. You might have imagined enjoying outdoor barbecues with friends and family, or dreamed of watching your kids play out in the yard. The reality of time-consuming lawn maintenance is that it prevents you from enjoying your yard to its fullest. Rather than spending time with friends and family, you'll be mowing, pruning, and trimming. Why not leave these tasks to a professional team of landscape techs?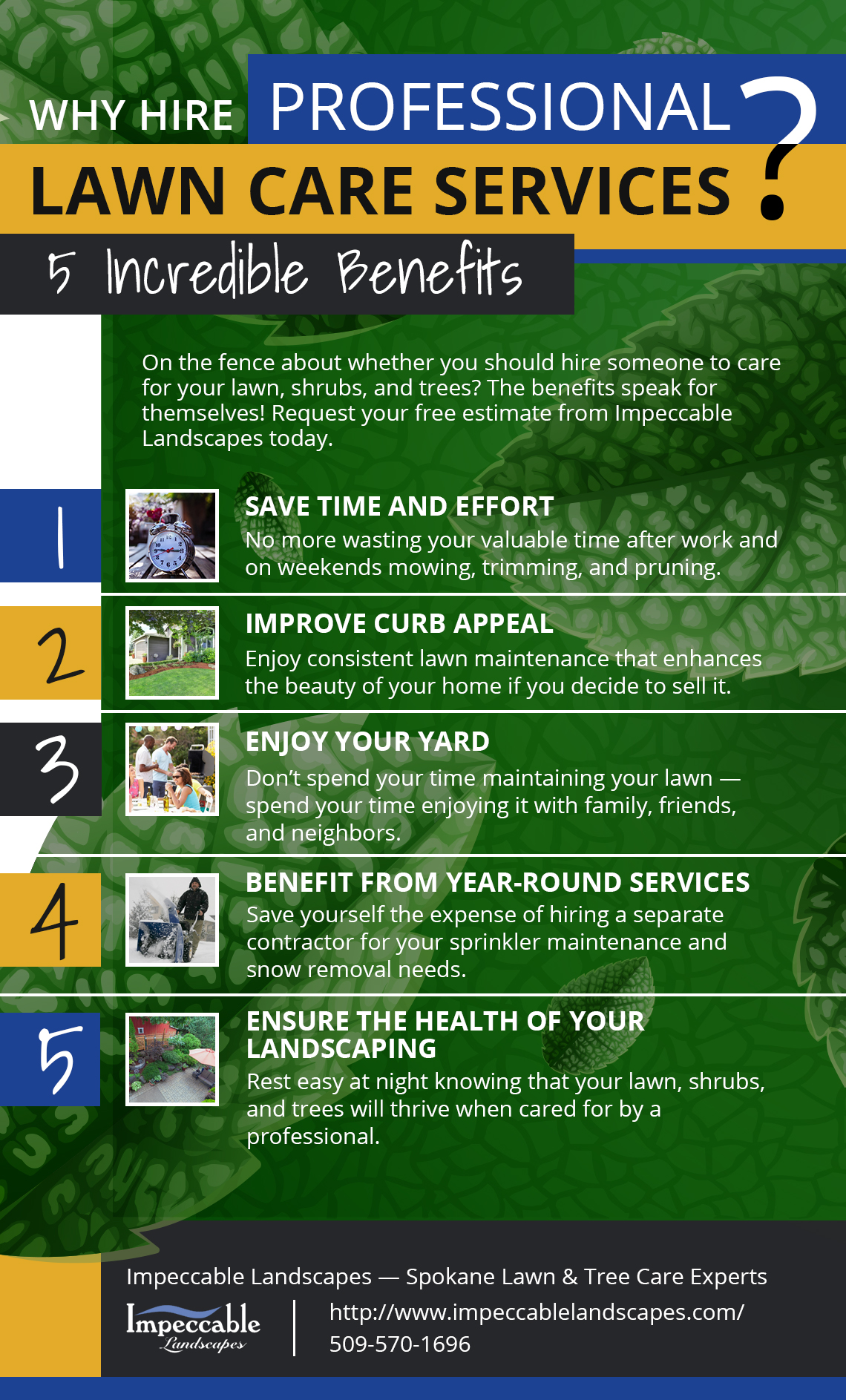 ---

Provides Access to Multiple Services
You get much more than just the convenience of having someone else care for your grass, bushes, and trees when you hire a company that provides lawn care services. Quality companies, like Impeccable Landscapes, offer a wide variety of services that customers can benefit from so you don't have to hire a separate contractor, including services like insect treatments and snow removal. Working with one company versus several different contractors can save you both time and money.
---
Ensures the Health of Your Landscaping
Even the most well-intentioned property owner can unknowingly cause damage to their landscaping without the proper knowledge and tools. When you hire a professional team to care for your lawn, shrubs, and trees, you can rest assured that they will be cared for properly. There is simply no substitution for the expertise that a professional arborist or landscaping tech has, and that means that you will never have to worry about killing those finicky, yet beautiful, parts of your landscaping.
As you can see, the benefits of hiring an experienced company for full-care lawn services far outweigh any sense of accomplishment you get from doing it on your own. Additionally, the expense of preserving the health and integrity of your landscaping is well worth paying a professional to care for it, not to mention the time involved.
Let's face it, you only have so much time on this planet. You want to maximize it with your family. When you work a full-time job and the kids are in school, weekends are your family time. Do you really want to cut into those precious moments by spending most of Saturday mowing the lawn, getting rid of weeds, trimming trees, and raking leaves in the fall?
Time is money, so when you factor in the time saved in not taking care of your lawn, you are saving a ton of money — not to mention you are able to be with your family instead. Below, are some more benefits of hiring a professional lawn care company for either your home or business.
---
Has The Right Tools
When you partner with a professional landscaping company such as Impeccable Landscapes in Spokane, you will realize that having the right tools can make all the difference. From a top-of-the-line lawnmower to weed wacker and tree trimming tools, the look you can achieve with the right tools is hard to duplicate when you don't have them. Furthermore, if you were to buy these landscaping tools, you'd not only be spending a lot of money for little use, but you'd then have to have a place to store them. Our landscaping company has the skills, knowledge, and the tools to maintain your property to the fullest.
---
Professional Landscape Look
It's exceedingly difficult to duplicate the look of a professionally manicured lawn, even if you invest in the best landscaping tools. This is because the landscaping company has a deep knowledge of everything growing in your yard, from the grass and perennials to the trees and the weeds. With this knowledge base, coupled with the right landscaping tools and the time, we are able to keep your yard looking spectacular — much more so than you would be able to do on your own. Furthermore, by not understanding plants and trees, their growth cycles and needs, and even such things as how short to cut your grass, you could be doing damage to your home or business's property inadvertently, which could result in dead grass, trees, and the like.
---

Helps with Pest, Insect & Weed Control
There are billions of insects on this planet with potentially hundreds living in your yard at any given moment, especially during the height of summer. There are dozens of pests, from mice to raccoons, that may call your yard home. The same holds true for weeds. With so many types of unwanted living things in your yard, fighting all of them by yourself is exceedingly time-consuming. After all, you have to learn all about them, buy the appropriate tools or substances to get rid of your problem, and then spend the time to get rid of your problem.
Instead, when you partner with Impeccable Landscapes in Spokane, a professional landscaping company, you'll be hiring the knowledge and the capabilities of a team of experts who can help you cut down on the number of pests, insects, and weeds for good. Our landscaping team can assess your lawn's needs and then take appropriate action, using organic and natural means to keep your lawn almost free of these nuisances.
---
Stays Consistent
When you begin to learn a musical instrument — or any skill for that matter — it takes consistent practice in order to become good. The same goes with landscaping. You need consistent lawn maintenance if you are to maintain the look you desire all year round. Just think of what your lawn looks like after you've been gone on vacation for a while. It's probably dry, brown, overgrown, and taken over by opportunistic weeds.
When you partner with Impeccable Landscapes for all of your lawn maintenance needs, you can be rest assured that your lawn and your trees will have the consistency it needs to be green, healthy, and beautiful all year long.


On the weekends, you'd rather be hiking, biking, reading a book, or watching TV rather than outside pulling weeds, mowing the yard, or planting annuals. Impeccable Landscapes in Spokane is a family-owned landscaping business that was formed so you could enjoy your free time with your family more instead of doing pesky yard chores.
Impeccable Landscapes can handle your year-round landscaping needs from planting in the spring, maintaining in the summer, and raking and aerating in the fall. If you are looking for the best yard or property in the neighborhood, give us a call today!